The year is almost over yet Bitcoin is nowhere near 100k. If we look a few months back, a lot of crypto influencers were predicting 300k Bitcoin by September, 100k Bitcoin at some point this year, or a parabolic move up towards the end of the year. Even I was pretty confident we will see Bitcoin around 80-90k level before the end of the year (although I was not expecting the market cycle peak this year).
What we got instead, was in fact, a pretty 'boring' year with Bitcoin bouncing between 30k and 70k. Sure, we set new all-time highs, and the numbers may look impressive, but in terms of percentages, you could get at most 140% if you bought around 29k and sold around 69k.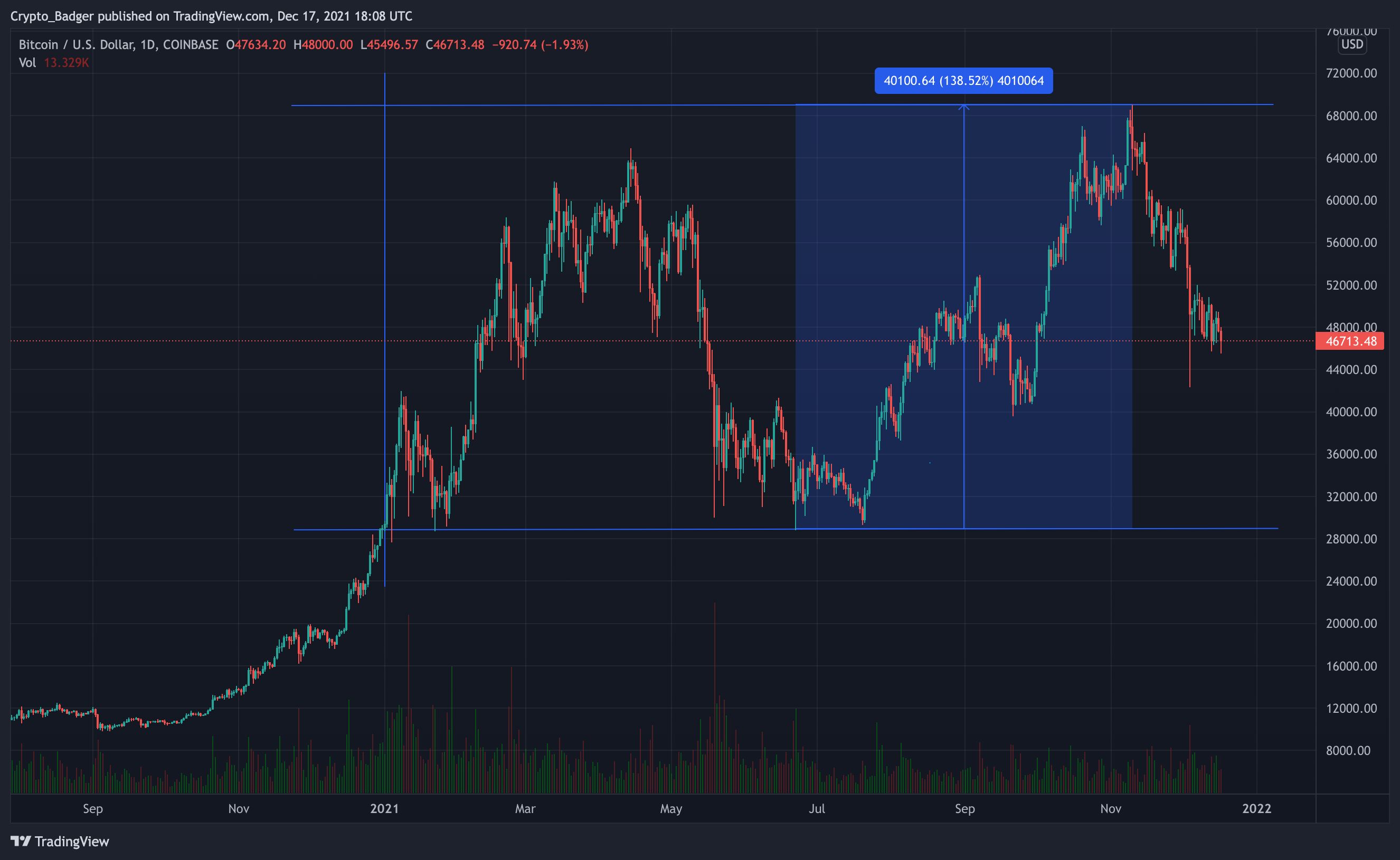 Now compare it to 2020, when Bitcoin started the year around 7k and finished around 29k, not to mention the dip down to 3,8k at the beginning of the pandemic. 320% and 650% respectively.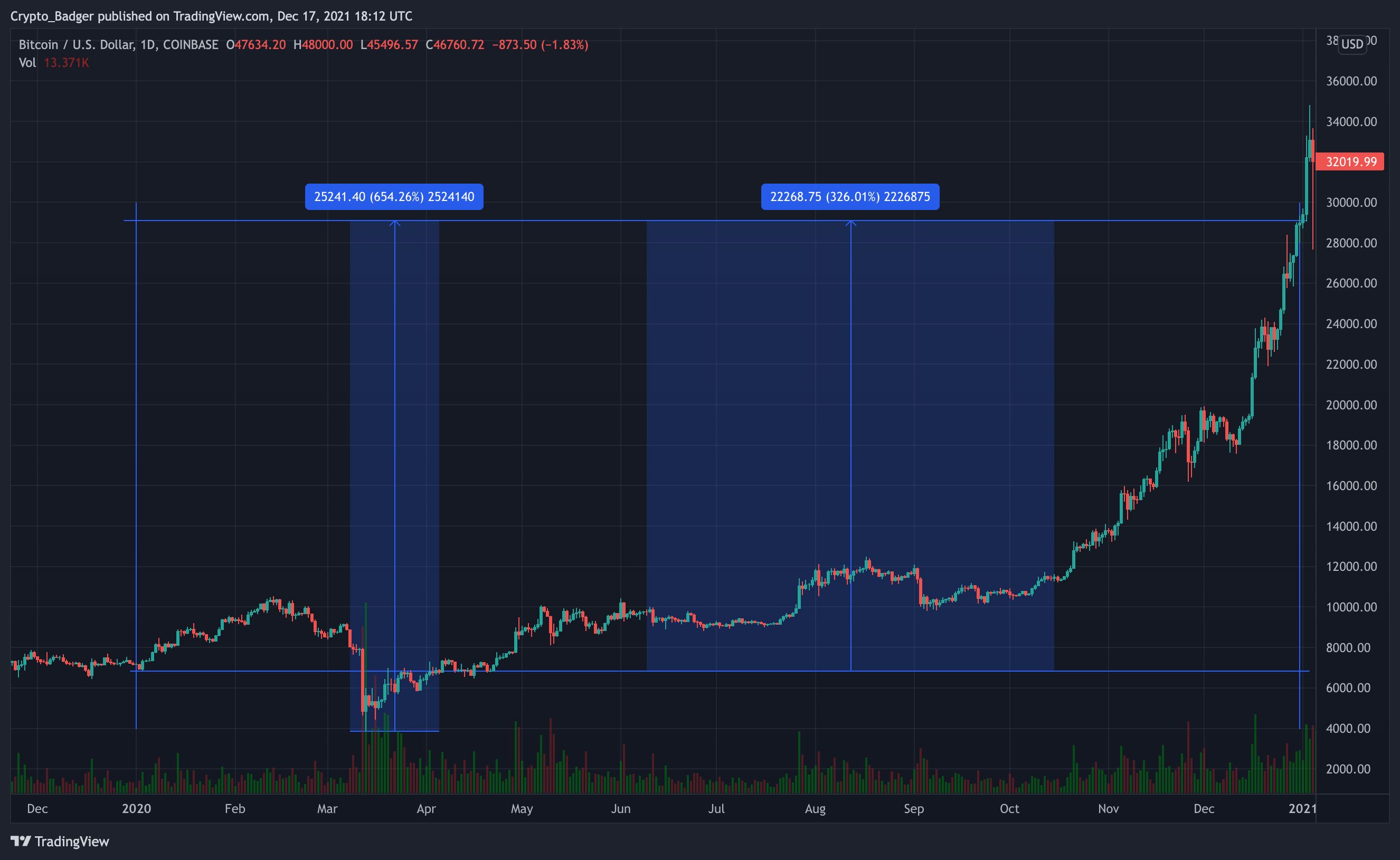 So What's In Store for Crypto in 2022?

Although we all know to 'buy the dip' and 'bull markets make you money, but bear markets can make you rich,' let's be honest – no one likes market pullbacks. Especially if you bought the dip, but the market keeps dipping, or we enter a prolonged sideways movement phase. I'll be honest with you – I didn't expect Bitcoin to dip to 42k a couple of weeks ago, and I didn't expect it to stay below 50k for this long. Bitcoin breaking and, more importantly – staying below its bull market support band (20-week SMA), which is currently around 52k level, is certainly a bit bearish. Not the end of the year most of us expected.
Nonetheless, I see it as a very bullish sign for this market cycle overall. We're certainly nowhere near a prolonged bear market like the one after the bull run in late 2017 and early 2018. Unless, of course, we break below 30k level, then all bets are off. A much more realistic scenario is a re-accumulation phase similar to the one we had this summer. Personally, I don't think it will be as long as it was in the summer, but I wouldn't be surprised to see a few more weeks of sideways movement in the 46-50k territory.
So Why Am I Bullish?
These pullbacks and re-accumulation phases give the market a chance to breathe and drastically reduce the possibility of a blow-off top, at least in the short-to-mid term. And the longer the cycle, the higher we will go. I was expecting Bitcoin to top out around 120-150k in spring 2022. After the last few weeks, I expect the market cycle top to come in the second half of 2022 and Bitcoin to reach something between 150-200k. I think the longest we can go is late 2022 or very early 2023, and I would expect Bitcoin to go up to the 200-250k range if the cycle indeed extends that far. However you look at it, the time is on our side.
To conclude, we won't see another leg up of this market cycle until Bitcoin breaks above its 20 week SMA, which is around 52k and slowly trending upwards. Until we get there, I'm using this time to buy more Bitcoin and some of my favorite gaming and Metaverse Alts (discounts everywhere!) and earn interest by staking some of my crypto.
Even though Q4 of this year was not as many would like or expect, I think 2022 will blow everyone's minds. Personally, I don't think I was ever this excited to be in the crypto space. Happy New Year!
If you found this article interesting, please check out
my YouTube channel
– I post market commentaries, my thoughts about various altcoins and NFTs, and tutorials for beginners and more advanced users. I also mention a lot of altcoins and NFTs on
my Twitter
.
Disclaimer The content covered in this article is NOT to be considered investment advice. I'm NOT a financial adviser. These are only my own speculative opinions, ideas, and theories. Do NOT trade or invest based purely upon the information presented in this article.