What are the Top 3 Challenges faced by Small
Businesses?
Despite coming across multiple challenges, small businesses have always extracted the maximum benefits from digital transformation. Let's analyze the prominent issues that small business firms often face.
Inefficiency: Small businesses often do not go for customized in-built tools. Keeping the database in a generalized application like Microsoft Excel is a foremost example.
Their
IT infrastructure
gets disrupted, as different technologies are used for different purposes. Eventually, the concerned decision-making body keeps on switching the software from one service provider to other. As a result, the process gets inefficient, and employees face a thin deadline to accomplish the heavy task. Microsoft Dynamics 365 Consulting Services brings an exceptional solution to this problem and offers a customized platform to maintain and access the company database.
Data Silos: Data silos are the accumulation of data held by a group of people that is not completely accessible by other company employees. This brings a usual transparency issue as certain employees have possessed a great deal of knowledge about the company, process, product, and a lot more.
Coincidently, if the know-how group holding the knowledge is not available in operation, Most of the data gathering and information turn scrap for the rest. Dynamics ERP Development opens the door of knowledge for every individual of the organization that optimizes and streamlines the operational house like anything.
Unsuitable Software: Even when the business firms are willing to invest in the optimized IT infrastructure; they come across many substantial issues. Several ERP and CRM solutions are not economical and often deliver functionality far beyond the requirement. So, why to pay for that which you have no use for?
This adversity also goes vice-versa when the exact crucial function is missing from the solution that is vital for the system. Broad solutions are never fit for small business firms that look after specified requirements. A Dynamics CRM Development programme gives you an exact customized frame that could work congruently with your operation demand.
How Microsoft Dynamic 365 Benefits Small
Businesses?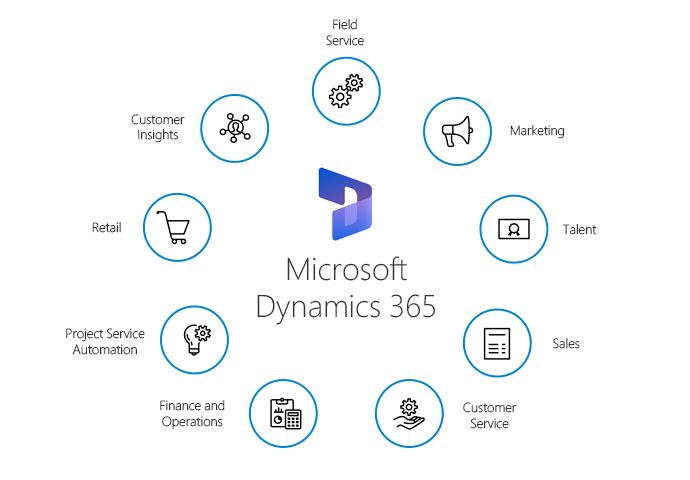 In 2016, a product was dispatched that tends to a considerable lot of these issues. Microsoft Dynamics 365 is a set-up of nine wise cloud business applications that can be utilized all alone or in combination with one another. Every application centers around an alternate part of business, like deals, projects, boards, or HR. Because of a typical information model, they consistently incorporate and offer data across modules, empowering offices to work more effectively with one another. Dynamics 365 can likewise be coordinated with other Microsoft items, most prominently Office 365 and Power BI.
While the individual applications are exceptionally thorough, offering a ton of usefulness, they are very conventional. This, notwithstanding, ought not to put anybody off them. For it is important for the Dynamics 365 idea to expand the applications with third-party solutions that will fulfill internal requirements or disburse extra industry-oriented usefulness.
Pay for what you need.
Sale automation, marketing alignment, employee connectivity; Get a separate purchase for exactly what you need for your business. Even if you want multiple capabilities, go for a consolidated plan for your business. For example, the consumer engagement solution comprises Dynamics 365 for Sales, Dynamics 365 for Customer Service, Dynamics 365 for Project Service Automation, and Dynamics 365 for Field Service. This is only possible when you get involved with Dynamics Project Services Automation Development company.
Grow your solution with your business
Dynamics 365 cloud computing solution enables you to start small and grow further at your speed. This means you can opt for an app at the beginning and add another later. In this format, you don't have to invest lots of money at the beginning.
Adapt each app as per your need
Given the wide range of functionality offered by Dynamic 365, There is hardly any possibility that you will miss something. Nevertheless, you can adapt any application as per the unique demands of your business. You can customize the solution to meet the local requirements. These applications permit you to make term-based time passages as well as appointments that include a beginning and end time, a typical prerequisite in many organizations.
Eliminate the extra infrastructure costs
High digital infrastructure cost is the major reason that small business sectors are not reckoning on ERP Development solutions. Not only do these systems tend to be costly, but there are significant infrastructure expenses associated with them. Servers, additional hardware, and databank engine never come in cheap prospects. Microsoft Dynamics 365 ERP Solution facilitates the buying of licenses that could eradicate a lot of costs when you run the software over an on-premises platform.
Integrate the system with Office 365 and other Microsoft products
Your company will possibly use Office 365. Being a Microsoft consumer, you can let the system integrate with Dynamics 365 suite. Track the email segment from Outlook, make calls by fetching the phone number from Dynamics 365 record or SharePoint portal to optimize the storage capacity. Other Microsoft products like Power BI give you the same streamlined experience.
Why Should your Small Business adopt Dynamics 365 Business Central?
Adapt as per the business growth
Smart and fast functionality
Streamline financial management
Improve the customer experience
Facilitate project success
Warehouse management optimization
Extract optimum manufacturing outputs
Final Words
Technology optimization is the new strength of every business market. This is entirely understandable that small business firms have constricted resources available in their bucket. They have restricted employees that usually have lesser command over IT functionality. Thus, it is harder to figure out a software solution that could fulfill their needs. Be it Dynamics CRM or ERP Development plan, rarely will you come across any solution which can tally with the backdrop of entire operational behavior.
Microsoft Dynamics 365 Consulting Services emerge as a savior to your small size business firm by filling up the gaps and loopholes with its exceptional CRM and ERP solution.
Writer Bio
Austin. H. Joy is working as an IT Consultant at
Bitscape
. It is a Dynamics CRM Development Company based in the US & Canada. He passionately writes about the trending technologies including core Microsoft CRM & ERP solutions that could strengthen the mid-size business firms with proper Employee and Customer Management, Top-notch Operational Behaviour, and Required Functionality.