How To Write A Resume: Part 1 – The Structure

First of all, let me introduce myself for people that saw me for the first time.
My name is Stas, currently I'm a recruiter that want to switch career into development. While learning coding I'm trying to help people to get a job. For trainee and juniors, for middle and senior specialist. Literally for everyone who need my help and for free.
I'm also running a list of job openings for developers as a part of my help to the community: List of openings
With this article I want to start my series of posts about building or editing your resume.


Who will need to read this series of articles

I'm receiving a lot of messages in Twitter from people that need some review of their resume. Just to be sure that they are ready to apply for a job. I've spent about 15-20 min for checking all the information and writing the answer.
This series of articles will help me to give answers faster and help more people.
So answering the title question – this series will be helpful for everyone who is currently looking for a job or want to change working place in future. Also, some of my tips can help you improve your resume even if you already have a good place.


Where to start

I saw a lot of resumes with mix of sections that were put just randomly. Probably, such resume may be cute for you. But it's a hell for HR's and Recruiters.
Being developers you must know that correct structure is very important in code. Same with Resume. So first of all you need to know what structure to use.
Types of resume structure
It's common to define 3 types of resume structure:
Chronological
Functional
Combination
I don't want to give long and detailed explanations of each to save your time. Just a short description to understand what type is better to choose in your particular case.


Chronological

Chronological resume is the most common and popular option. In this type of resume you are filling 'Experience' section with your previous jobs in reverse order, starting from the most recent. This is a good choice if you have at least 3-4 previous jobs to fill the list and employers are really like such resumes.


Functional

While Chronological resume focused on work history, Functional is focused on your skills and actual experience. You need to be careful with this one as it's more specific and require filling all the information specially for some job opening or specific position.
The main area of resume must be filled with your skills description and sometimes it even haven't work history section. But if you have some to add – put it below 'Skills' or 'Professional experience' section. Usually this type of resume is very good if you are switching career or have some gaps in employment history.


Combination

Combination type is a simple mix of two previous types. It helps to focus HR's attention on your skills but also provides your work history showing stable and regular employment. Usually this type is better for developers of middle+ level.


Required and optional sections

After choosing the type of your resume you need to create the template, using specific sections. There are required and optional sections you can use in your resume:
Contact info (REQUIRED)
Objective / Short description
Education (REQUIRED)
Additional education
Work history / Professional experience (REQUIRED)
Skills
Achievements / Notable things
Recommendations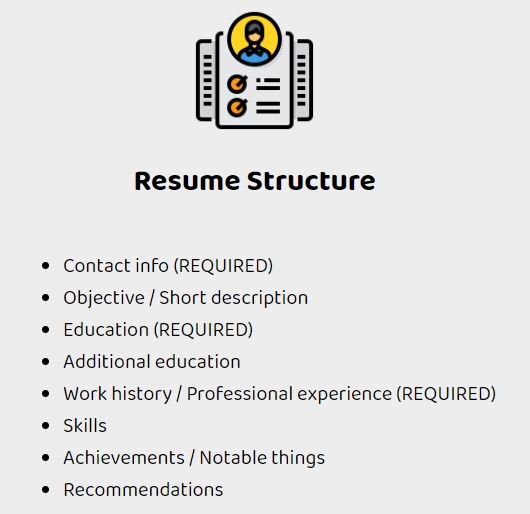 Contact info (REQUIRED)

We can also name this section as 'header' of your resume. The section usually include:
Your first and last names
E-mail
Phone number
Location
Social networks (LinkedIn, Facebook, etc)
Only name and E-mail are required. Other information is optional, but it's always better if you add it.
Sometimes I see additional information like 'married' or 'have 2 kids', etc. It's not important and I'm not recommend you to add it. HR will ask you about it if it's required by the company, but usually not.


Objective / Short description (OPTIONAL)

This section is optional and allows you to write a short summary about yourself. Usually 2-3 sentences. If you don't know what to add here, better is skip the section.
I don't recommend you to write some kind of your story here, describe your hobbies, etc. Short summary or nothing.


Education (REQUIRED)

This section is only for mid-higher education. But don't write about your school here. Description of education must include:
Educational institution
Specialization, degree and dates
In some cases you can include publications or achievements
If you have more than one place of main education, add them in reverse order starting from the most recent.


Additional education (OPTIONAL)

In this section you can add information about courses for learning languages or coding. Also, you can specify some online courses, books, big conferences or even progress in some platforms like Hackerrank or LeetCode.
This section is mostly using by trainee and junior developers. Usually they haven't much experience or good projects with bunch of technologies so they need to show that they already learned them and ready to use. This section may be also a good addition if you haven't much info to specify in the resume.
But please, add only notable sources.


Work history / Professional experience (REQUIRED)

One of the most important sections of your resume. Be sure, HRs and Recruiters pay a lot of attention to your last and previous jobs.
All the history must be in reverse order starting from the most recent. Each job should have:
Name of the company
Your position
Dates of employment
Let's call all of it a job title. Under this title you should describe your main and most valuable to mention tasks or achievements. Don't write too much, 3 items will be enough. As you are developers, you can also specify stack of technologies you used.
If you have a very big employment history, don't include all 10-20 places. Add only most valuable or related to the job you are applying.


Skills (OPTIONAL but REQUIRED in functional resume)

Checking resumes I saw thousands of ways to write skills. Lot of people don't care how this section is looking and who will check it later. So they just put all skills they know into one sentence.
The best way to represent your skills is to divide everything into smaller parts. For example:
Front-end: JavaScript, jQuery, React;
Back-end: Python, Django, Flask;
Other: GIT, Bootstrap, Slack, etc.
Use any kind of categories, but make it just a bit better to view and check.
In this section you need to specify only skills related to the job you are applying.


Achievements / Notable things (OPTIONAL)

This section may be your advantage among other candidates with similar experience if you have something to include. For example, you can add your own publications, information about top places in some competitions, participation in big challenges or notable contributions.


Recommendations (OPTIONAL)

Sure, this section is optional but in my opinion if you have 2-3 recommendations from previous jobs or other sources, it means that other people were satisfied working with you. And this is a big plus for a new employer.
Additionally to all said above, I'm not recommend to add 'my interests' section. You can tell about it during the interview but it's just a useless waste of space in resume.
Also, don't add one more page with some links and descriptions as your portfolio. That's a bad idea. Make this list on your own website, GitHub or just send a few links for the most valuable projects you made.
This article is my personal view. Some other HRs or Recruiters may not be agree with something.
I hope this article will help you with building your own resume. Follow me here or on twitter for further updates and other content.
Thank you!